Hotel Spa UK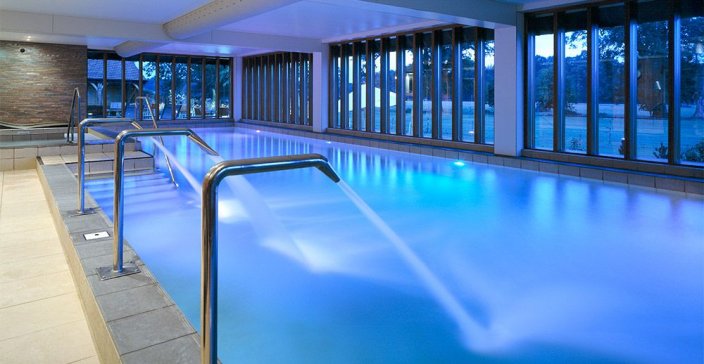 "The spa on the lower levels- a new addition since 2013 - is super-modern and light, and a sharp contrast to the panelled wood above. If you take the lift or stairs down from reception, you journey from a classic hotel to a twenty-first-century spa.
The spa reception is mirrored and bright, and sits next to a small seating area where you fill in your consultation form on a whizzy Samsung tablet.
From this central space, the spa divides right and left into two halves. On the left is the wet area. The small pool has bubbly loungers and swan pipes that work on a timer. The hot tub was nicely hot on our visit, as was the wooden-benched sauna and the pebble-lined Cornish salt steam room.
To the right of the spa reception is the "dry" area of the spa, a more luxurious and soothing offering. The gym is on this side, as well as the treatment rooms, rasul, VIP suite - essential when you fancy some private lounging with champagne - and the relaxation lounge."
We Loved
The seasonal muds: We drifted home in the spring in a small cloud of chocolate and vanilla, but in the summer that cloud might consist of strawberries and cream. The spa treatment menu is varied and offers something for every need. The bright and stylish café that opens out onto a sun terrace and... yes! While we were there, the sun shone. (We can't promise this.) We also loved Fay, the spa "butler" who offered drinks, snacks, and - when we were a little pinkly flustered after the heat in the steam room - recommended a cooling and refreshing watermelon slushie. Just what we needed, Fay, although we didn't know it.
5 Bubbles
The Headland Spa retains its 5 bubbles. The hotel is family-owned and this shows throughout in the friendly and helpful attitude of every member of the team; the customer service is superb. The beautiful spa allows you to move from the bright cafe and terrace to darker and soothing spaces with imaginative treatments along the way. So many things are spot on: the iced jugs of water, the fresh flowers on the tables, even the belt pre-threaded through your spa robe. These careful touches make The Headland Spa a destination in its own right!