Bliss Spa London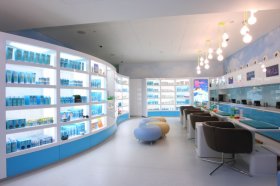 As far as I'm concerned, any girl (or boy for that matter) who claims not to love a bit of pampering is a big fat liar. I'm not embarrassed to admit that I take an inordinate amount of pleasure in personal primping. Whether it's a haircut, a leg wax or just a good old exfoliation session in the shower, being groomed just makes you feel instantly slicker, chicer and better about life generally. Between press days, thesis research and trying to retain some semblance of a social life my grooming regime has kid of gone by the wayside recently and I fear I've started to look a bit raggedy. As I'm sure you'll agree, that just won't do so I resolved to get my polish back starting with a trip to Bliss Spa London on Monday.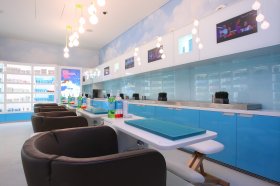 Bliss Spa London, 60 Sloane Avenue, London, SW3 3DD
While I don't spend nearly as much time as I'd like to getting my pamper on, I have visited a fair few spas over the years and Bliss is definitely a new favourite. Located in between South Kensington and Sloane Square – conveniently next door to a Starbucks – it's close enough to the center of town not to be a total pain to get to but has the kind of leisurely vibe you just don't find in Soho.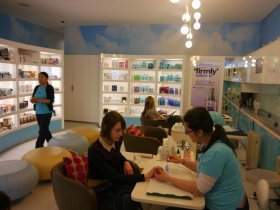 Since September I've been living right in the heart of the city but while I adore being able to walk to Selfridges and multiple cocktail bars, whenever I return to my old stomping grounds I realise that I'm still a West London girl at heart. Not only is there something so comforting about it's leafy gorgeousness, West London is also home to the best day spas.
If you're not already feeling rather more relaxed after strolling down Sloane Avenue, entering Bliss Spa is guaranteed to make your worries instantly melt away. Simple furnished with a neat row of mani pedi stations and decorated in a colour palette dreamy sky blue and clean white, the very decor oozes calm. After taking a few truly terrible snaps (most of the ones here were sent to me by a kindly PR) I got comfy in a curved leather chair I'd be reclining in for the next two hours. I have neither the time nor the money to get my nails done regularly but oh, how I wish I did. You can kid yourself that a DIY mani pedi is just as effective but it reality, it's SO not. My lovely grooming guru (who it turned out, did the nails for the Peter Pilotto AW13 show) put so much care and attention into every step of the procedure that by the end, I barely recognised my previously very nasty nails. When I say "every step", I don't just mean base and top coat. My digits were soaked, steamed, exfoliated, oiled, trimmed and wrapped up in special heated moisturising bags before we even thought about polish. Admittedly, I wouldn't advocate popping to Bliss Spa London for a mani pedi during your lunch hour. But although you'll be there for a while, the results are well worth waiting for.