Cheap Spa Weekends in London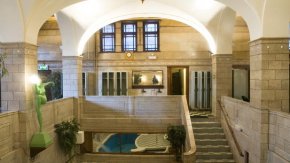 The Porchester Spa
Housed in a jaw-dropping 1929 building, the Porchester is one of London's more authentic spa experiences — jolly steam room and knockout sauna included. If you like pools this is the place to be! There is an exceptionally large swimming pool for long strokes to work those back muscles into shape, plus a delightful plunge pool for cooling off after a sweltering detox in one of the three Turkish baths. Offering a range of no-nonsense and to-the-point treatments (sorry no ambient music or fluffy white towels here) for both men and women, indulge in wraps (£55), facials (£30) and massages (£26), all at affordable prices.
Monday to Saturday 9AM – 9PM, Sunday 9AM – 3PM
Queensway, Bayswater, London, +4420 7792 3980
K West Hotel & Spa
We know what you are thinking but don't worry, Kanye hasn't got his little paws into the hotel and spa industry just yet. This Shepherds Bush-based hotel recently underwent a makeover of its own; now a glossy, glass-clad hipster-ish paradise with staff donning the latest in toned-down designer apparel, a restaurant that offers a 'glam rock' afternoon tea.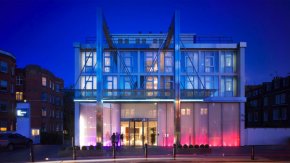 Oh and did we mention an in-house DJ that rocks out the beats in the hotel lobby until 2AM on Friday and Saturday? Hotel aside, this nifty little spa comes with its own stellar Jacuzzi, sauna and steam room to detoxify and enlighten those sad-looking pours. The added bonus here has to be the Massage Masterclass, specifically designed for people who want to learn the benefits of how to do a basic massage — at home! For £99, it's a bargain and includes all-day use of the 'chill area' and a high tea or slap-up spa lunch in the hotel restaurant, Studio Kitchen.
Open Monday to Friday only
Richmond Way, London, + 6600
Spa London, Swiss Cottage
This little chain has numerous outposts in the city but the favourite must be its latest edition in Swiss Cottage. Up until 2007, Londoners had no idea what an affordable spa was until Spa London opened up its first spa-tique in Bethnal Green. Signature body treatments, facials and massages are up for grabs from as little as £30 — rare in this part of town. For something a tad more luxurious, the Hammam Signature treatment is your new BFF. For £40, indulge in organic recipes with age-old techniques (including a La Sultane de Saba bathing ritual) — Kessa mint and black soap wash-infused in Shea butter to replenish, revive and refresh mind, spirit and body. Total magic!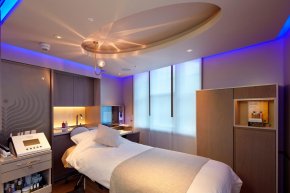 Monday to Tuesday 10AM – 6PM, Wednesday to Thursday 11.30AM – 8PM, Friday 11AM – 7PM, Saturday 9AM – 5PM, Sunday 10AM – 5PM
Adelaide Road, London, +4420 7974 3642
Liz Earle
If you have a little more lolly to play with and fancy a bit of a mid-week indulgence, Liz Earle is calling your name. Whilst a little pricier than the others on this list the results are worth the extra splurge of cash. To avoid disappointment, book mid-week as weekend appointments are almost impossible to come by. Which treatment to go for? The Abigail James Hero Facial of course. Combining Liz Earle's naturally active products and professional brands, the Hero Facial is a rather delectable fingertip massage (note the speed increases the further in so don't be alarmed) giving the result of instantly softer, glowing, clear and radiant skin — now you can strut down the King's Road without a blemish in sight.