Luxury Spa Hotels London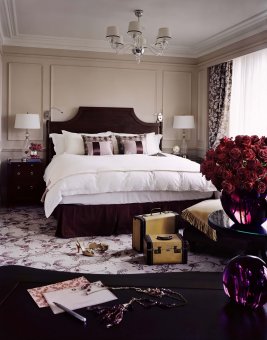 Fluffy bathrobes, cotton slippers and sumptuous suites are the order of the day in London's best spa hotels: perfect for a girls' weekend, a romantic getaway or just an indulgent holiday. Or for London locals, it may be that you simply want to soak away the stresses of the tube or recover from a night out in Camden…
Whatever the excuse, here are the city's best rejuvenating hotels for any lover of luxury.
Best for: Chinese medicinal treatments

You may be surprised to know that the Langham's swimming pool was once a bank vault – now, it's a place for relaxation and rejuvenation as part of the, complete with a Vitality pool, a salt sauna and herbal steam rooms. It's also the perfect place to immerse yourself in holistic and traditional Chinese treatments, designed to restore balance and reduce tension in the mind and body.
Back in the rooms, the hotel remains true to its 150-year heritage, with elegant Victorian charm, coupled with the modern conveniences of a private bar and mp3 connectivity.
Best for: a full-body experience
The Rosewood London offers a plethora of treatments for the spa-addict – an extensive menu of massages, body scrubs and beauty treatments are all available at the hotel's . Here, soothing water features, wooden floors and bamboo walls evoke a sense of calm, with large sensory showers, saunas and steam rooms allowing guests to make the most of their experience.
The hotel's rooms capture the essence of the modern British manor house: plush, elegant and spacious. Guests can sink into fine Italian linens, relax in the handsome marble bathrooms or choose their favourite feather-and-down pillow from an extensive selection.
Best for: treatments inspired by south-east Asian remedies
Reminiscent of the far-east, The Rafayel on the Left Bank incorporates massage techniques along with herbal compresses from natural Thai extracts in their Priadara Thai Style Massage. Lotus, bamboo and coconut are also recurring ingredients in the spa's treatments, which are both calming and rejuvenating.
Each hotel room features floor-to-ceiling windows, not only offering guests spectacular urban and riverside views, but also ensuring an abundance of natural light. Indulgent and spacious bathrooms allow guests to transport their spa experience to their private room, with Murano glass mosaic tiles and body-spray showers.
Best for: luxury Italian skincare
A night at the Hilton London Syon Park Hotel wouldn't be complete without a pamper session at the hotel's Kallima Spa which specialises in exfoliation, mineral mud masks, facials and full-body massages. For an extra spring in your step, the spa offers the Lava Shell Massage to gently ease away muscle tension and increase energy flow. Afterwards, relax in the 15-metre indoor pool, Jacuzzi, sauna or steam room.
It's easy to unwind in the hotel's tranquil rooms which look out onto the gardens and pools of the picturesque Syon Park Estate. Chic design meets modern comfort with TVs in every bathroom – so you can soak in your tub whilst catching your favourite flick.
Best for: age-old Indian and Moroccan beauty treatments
The Taj greets guests with a wealth of luxury and opulence, with one of the highlights being a visit to the hotel's La Sultane de Saba spa. With warm oil blends and melted shea butter as some of the treatments' key ingredients, guests can enjoy ancient Moroccan and Indian practices. Should you wish for the ultimate luxury experience, the 23-Karat Gold Facial harnesses the anti-aging properties of gold, caviar and mother of pearl to deliver supple and radiant skin.
Film enthusiasts will also be sure to appreciate the hotel's signature Cinema Suite, a room which pays tribute to international cinema. With full butler service, an 85-inch HD TV and a complimentary bar fully-stocked on arrival, the suite is arguably the envy of any luxury traveller.