Best London Day Spa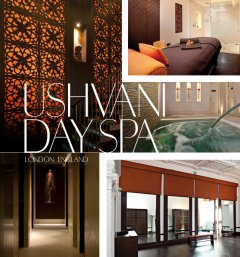 As I was briskly walking through Hyde Park to my appointment at Ushvani Day Spa, I have to admit, I was not necessarily in the mood to relax. I had a long to-do list that was eating away at me. I was, for all intent and purposes, the very definition of uptight. On top of the work load impeding my sense of calm, it was a sweltering spring day in London, and there was a blister forming on my foot, owing to a new pair of shoes, I had hoped to love. It was just one of those a days; and the spa, I feared, would not be remedy enough for this one.
And then I arrived. Stood in front of a Georgian townhouse at 1 Cadogan Gardens in Chelsea, I was met with what, in that moment, was not only unexpected, but seemingly impossible, and that was: the promise of relaxation. It peeked out at me after I rang the buzzer and inform the voice on the other end that I had an appointment for a Signature Facial. Rather than being buzzed in, the voice—who introduced herself as Jennifer—appeared as she opened the heavy wooden doors, and ushered me into the spa's reception area.
Inside its quiet corridors, it was hard to believe this sanctuary was a mere stone's throw away from Sloane Square. Protected by the warmth of the spa's spiritual atmosphere (Ushvani is inspired by Malaysian tradition and looks the part), the cacophonous world outside began to fade, even before I slipped into my robe.
As I awaited the esthetician, I admired three hanging silk curtains that preceded from the floor above. The hibiscus floral print of the curtain, next to the fish glowing in a tank, acted as a shock of orange against the panels of dark wood covering the walls. (FYI: The hibiscus rosa-sinensis is Malaysia's national flower and also, fittingly so, a key ingredient in the products used in a variety of the spa's treatments.) When later informed that orange promotes good feng shui, I was less than surprised.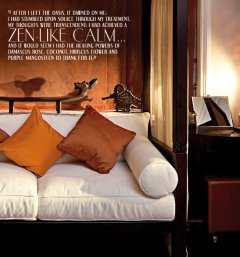 My feet were first to profit from the luck of the colour, finding themselves released from the clutches of my blister inducing shoes, and sprawled out in pair of orange and brown flip flops. This gift was shortly followed by the courtesy of a warm towel for my face and hands, scented with invigorating notes of ginger and nutmeg—the spas signature scent. Already, I was beginning to feel refreshed.
I'm early for my appointment, and decide to take a quick tour of the spa before my treatment begins. I pop into the Sentosa room, curious to learn more about the yoga and pilates classes I've heard are offered on Tuesdays and Thursdays. The space is lovely. The room's high ceiling, decorated with ornate detailing, befits the century house. There's a fireplace at the front of the room, while the back wall is mirrored. And, if you peer out the window of this third floor room, you have clear view of Chelsea's beautiful brick rooftops. Together, it's all enough to tempt one to sign up for classes. Yoga Downton Abbey style? I could get into that, especially at the price the spa is charging, which is comparable to your average class at a run-of-the-mill (totally un-Mary Crawley friendly) London studio.
It's almost time for me to begin my facial, so I head back downstairs. On my down the hall, I pass the men's treatment room (the lower level is women only), which staff have informed me books up quickly. Perhaps this is in part owing to the spa's new Signature Facial for men. Formulated with soothing kemiri nut oil and butters derived from both cocoa bean and the shea nut, the facial helps exfoliate, brighten and rehydrate skin that has been overworked through daily razor routines and environmental stresses. Regular ol' stress too—of the tired brain variety—is also remedied during this facial with pressure point exercises and deep lifting techniques concentrated around the jaw to help relieve tension.
But enough about men, it was my turn to free my mind and body of strain. I head back downstairs, and hear the sound of a cascading wall of water trickling into a pool, as I enter the women's area of the spa. The sound echoes throughout the tiled room, setting the mood for rest and recuperation. I see a steam room available for use, but I'm still feeling sticky from my walk over, so opt out of the divine sweat session, and instead choose to unwind in the plush sitting area, munching on an offering of nuts and dried fruit.
Soon it was time for my treatment. Inside the treatment suite, I sit down with the esthetician and discuss the condition of my skin as of late. I share that I've recently experienced breakouts, and she reassures me that she will tailor the facial to help calm my newly sensitive skin.
And with three deep breaths, fragrant with the signature Ushvani balm just under my nose, I begin the renewal process.
It begins with an application of the spa's creamy coconut and kimiri blend cleanser. To the delight of my overly-reactive olfactory system, I could barely detect a hint of the sweet coconut scent I had expected. Distracting the senses is not, as Ushvani knows, how one achieves balance.