Spa in London for Couples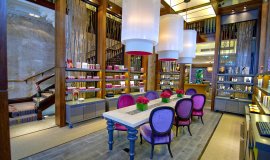 Sofitel So SPA
Majestic arched windows and high, ornate ceilings gives our luxury spa, right in the centre of London, a unique ambiance.
Three sun-drenched floors of intimate treatment rooms invite you to de-stress in the multi award-winning luxury So SPA.
Sofitel London St James
6 Waterloo Place London SW1Y 4AN
Newsfeed
Treat yourself to an afternoon, a full day or an entire week of exhilarating and rejuvenating spa treatments from around the world. Our expert therapists will pamper you from head to toe using products by prestigious French brands, Carita and Cinq Mondes. Once you have experienced the delights of Sofitel's So SPA, you may never want to go home.
Close
With five treatment rooms, including one for couples, a private hammam and steam room, along with manicure and pedicure stations, Sofitel So SPA allows you to leave the world behind as you surrender to the pleasures of a highly-personalized, well-being experience. Massage tables have been designed exclusively for Sofitel to offer supreme comfort. For a natural, holistic approach to beauty, Marisa Berenson has devised a range of treatments and products to enhance your relaxing So SPA journey.