Best Spas for Couples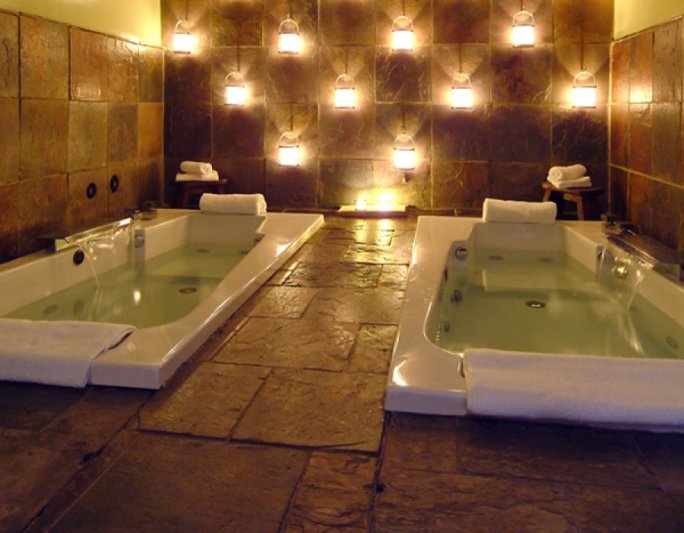 Over and above the usual pampering proffered by spas, these retreats - as much as they each differ - all specialize in "rejuvenating 2-body energy systems."
Translation for those not yet familiar with spa-speak: romancing the relationship.
Miraval, Life in Balance
Catalina, Arizona
When romance seems nothing more than a mirage, consider hunkering down with your partner in the middle of the Sonoran desert at Miraval, Life in Balance. Not only does this destination spa in the foothills of the Santa Catalina Mountains set the scene for romance by serving up gourmet-quality cuisine (with wines) and offering its signature hot stone massage, among a vast menu of treatments, it also comes to the aid of fatigued couples trudging through monotonous marriages and barren relationships.
Here, a husband-wife team of nationally acclaimed sexuality physicians conduct regular workshops based on their best-selling book, 'Your Long Erotic Weekend.' Drs. Lana Holstein and David Taylor help to re-energize couples who, in their words, "are having sex instead of making love, " as well as reconnect those who've given up completely on a physical relationship.
"People get the idea that our program has a lot to do with the details of having sex, or what is sexy, " Taylor says. "Really, it's much more about being intimate."
Even workshop-averse types can find plenty of romantic inspiration here: Miraval's rosemary-scented pathways are made for meandering, holding hands and remembering.
Mirbeau Inn and Spa
Skaneateles, New York
Here's a challenge: First, loll about with your partner in a milk bath scented with orange blossoms. Next, let the Mirbeau Inn and Spa's resident sommelier decide which wine to pair with your foie gras with caramelized pears, and which with your partner's sweet potato and vanilla soup with jumbo prawns. All the while, drink in the heady scents and sights of impressionist-inspired gardens surrounding a pond, complete with a replica of the Monet bridge. Finally, unwind from all this bathing, sipping and dining at a heated foot-massage pool before retiring to your chateau-style room.
I dare you, at this point, to not feel the amour.
There's not just something romantic about this country estate that is French in every way (except that it's conveniently located in the wine-producing Finger Lakes region of upstate New York); there's everything romantic. Gardens and ponds area designed to look like Claude Monet's home in Giverny and signature spa treatments are offered in the Water Lily room. After the signature 100-minute massage, couples soak in a tub for two that's aptly named "The Art of Living."
Red Mountain Spa
Ivins, Utah
If it's adrenaline that whets a couple's romantic appetite, they're no doubt as happy sharing a lukewarm Gatorade and handfuls of g.o.r.p. as chilled champagne and chocolate-covered strawberries. As comfy in climbing harnesses as white terry robes, he thinks she looks hot in a helmet and she doesn't snicker (not openly, anyway) at his bike shorts.
The Red Mountain Spa caters to them: thrill-seekers whose idea of intimacy involves hugging canyons, whether during bike rides, hikes or rock climbs, on the red cliffs and black lava beds of southwestern Utah.
This spa is a haven for couples who know that high adventure does not necessarily entail roughing it: Why settle for ramen noodles and a pup tent when healthy gourmet meals and luxuriously appointed villa suites are available? Whether the trails they traverse are tranquil or treacherous, guests at the Red Mountain Spa can decompress with 70 treatments that range from deeply soothing to rejuvenating; the signature "Four Directions" combines an indigenous scrub with tobacco and cornmeal, a cedarwood oil massage and a sweetgrass herbal wrap.
The Spa at the Hotel Hershey
Hershey, Pennsylvania
The street lamps are kisses: oversized replicas of the foil-covered variety. Oh, and - breathe deep - the whole town smells like ... mmm ... chocolate. With its manicured gardens, fountains and reflecting pools, the Hotel Hershey is the delicious center of a romantic resort. Its European-style spa is ground zero for indulgence.
The signature treatment - it's patented, no less - says it all: a whipped cocoa bath. Or say, for instance, that you or your partner has been less than delectable lately; you can book a chocolate fondue wrap for two. It consists of body-brushing, applications of warmed moor mud with cocoa essence, and Vichy shower rinses. Voilà - sweeties again!
To commemorate 2007 - the 100th anniversary of the Kiss - the spa introduced a new Cocoa Facial during which you're actually encouraged to eat dark chocolate: mercifully busting the myth that chocolate is bad for the skin.
The spa's locale is provincial, but the ambiance and treatments are disarmingly exotic. A Moroccan-inspired lounge evokes the interior of a harem tent. The Noche Azul soak (a calming bath containing Cuba's national flower, "la mariposa blanca, " or white butterfly jasmine) and the mojito sugar scrub (an exfoliating tropical body experience), transport couples, if only in spirit, to the forbidden paradise of Cuba.
Sundara
Wisconsin Dells, Wisconsin
This secluded retreat lures not only honeymooners and anniversary-ites, but also baby-mooners: first-time moms- and dads-to-be as well as veteran parents who are savvy enough to sneak away for one last tryst before their newborn makes 3, 4 ... or more.
Towering pines envelop Sundara; its name derives from the Sanskrit word for "beautiful." As captivating as the outdoor scenery is - imagine basking in the heated infinity-edge pool and watching a bald eagle soar overhead - the interior environments here are similarly appealing.
Sundara's Spa Together treatments take place in unique rooms architecturally designed for 2. The Asara Spa Together room has shimmering gold walls, quarter-moon windows and a body spa large enough for two, with 10 powerful water jets and a cascading waterfall. Among the most spectacular of the Spa Together treatments is Shakti Radiance, an almost three-hour-long (170 minutes) ayurvedic experience, during which couples occupy twin overflowing soak baths and have a view of the woods.